'Under the Lights' by Dahlia Adler is the second book in the Daylight Falls series. I didn't read the first book and I don't think my reading experience was worse for it.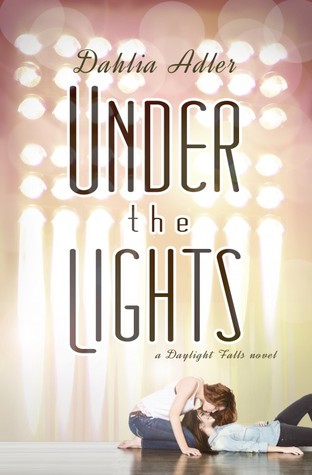 This book is about Vanessa Park, an Asian-American teenage actress trying to make it in Hollywood and Josh (I forgot his last name) teenage playboy and wannabe actor trying to figuring out their lives. The story is told through their alternating points of view and starts with Josh which is, in my opinion, a gamble because when I read his first chapter I was almost ready to dismiss the whole book since Josh is the biggest tool in the shed. But I knew his chapters weren't the reason I was reading and so I got through it and I'm glad I did.
Vanessa is the Hollywood good girl, she's still a virgin even though she has a musician boyfriend, she stars on a primetime teen show and wishes to be a role model for teenagers and the little Korean girls who never see themselves represented on TV the way they should.
Things just get a lot more complicated when her boyfriend suggests a public purity pledge and she gets closer to her publicist's daughter. More complicated and confusing.
The whole set up reminded me a little bit of The Gravity Between Us which also features a Hollywood actress who falls in love with a girl and has to figure out the whole publicly coming out thing and what it means for her career and all that. Unlike that book though, Vanessa's struggle makes a lot more sense in this context because not only is she a minority by race, afraid that she won't make it in Hollywood, having to figure and come out as gay does not make this any easier. Thankfully she gets help from the most unexpected person.
What I liked was that this is book does not only feature a gay protagonist but also a woman of colour and  a bisexual secondary character. Yay for diversity.
I really, really struggled with Josh because the way he acts and talks about women, especially in the beginning made me so furious, I can't even tell you. He kind of gets a redeeming storyline but it tainted the beginning of the story considerably for me.
I went through this book rather quickly because I just couldn't put it down. It was cute and fun and mostly fluff, just the thing I needed. It's not War and Peace but it doesn't have to be. I think it makes some excellent points, especially about young women of colour in Hollywood. It features a cute romance and really, what more do I need? There was no unnecessary drama, the story wasn't drawn out beyond reason, I'm a happy camper.