'The Walls Around Us' – to me –  is a book like 'We Were Liars' and 'Codename Verity' the less you know about it the better, which of course, doesn't make writing a review any easier.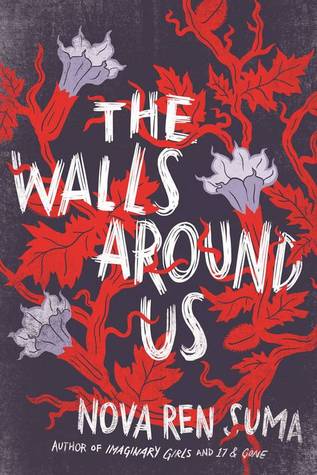 This is a story about three girls but we only ever hear from two of those. Actually, it may be a story about one girl told through the voices of two others, which was an interesting concept. Part of it is set in a juvenile correction facility for underaged girls, the other part is set outside in the rest of the world and it did remind me a bit of Orange is the New Black but also not. Also a little bit Pretty Little Liars bur uglier.
It's a story that is hauntingly told, the narration was very captivating and for the most part, I had difficulty putting the book down at night. The words just flowed and what was one more chapter, or five. And while the story is pretty good in itself, the style carries it home for me.
After two days, I still don't know how to make sense of the ending which is why it lost a point for me and isn't a five star book in my opinion. It's just such a mindfuck, not completely unexpected as I was asking myself throughout most of the book how it was going to marry the two narratives in the end but still I don't understand the logistics fully and that drives me a bit insane.
This is a story about bullying, at least to some extend. It's about friendship, the American justice system and the particularities of teenagers and the abyss that can be us humans, especially teenage girls. And I can't wait for more people to have read this so that I can talk to them about it because I feel like I need to discuss this story but I can't without giving spoilers and you need as little of those as possible. The blurb on the back of the book is already too much in my opinion.
To sum things up, short review is short because of potential spoilers. I really enjoyed this story and if you have read it, let me know in the comments so we can talk. Seriously, I need to talk about this.