First of all, I applied for an eGalley of this book without the hopes of actually getting one because I think there was a regional restriction on it but I requested one anyway and was granted an ARC. Still not entirely sure how that happened but I was ecstatic! I've been loving the original TV show since I came upon it a couple of years ago and I've been so happy when the Snark Squad started recapping the show as it gave me an excuse to visit Neptune again. Onto the book part of this review though.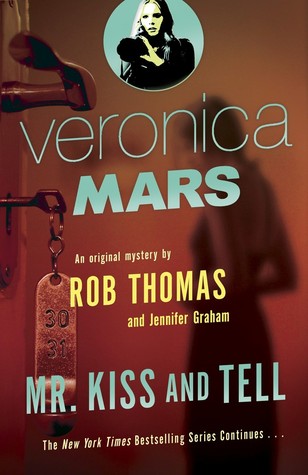 So, Veronica is back in Neptune for good. The last book basically dealt with that fallout and while I can understand her reasoning, I also feel like she is throwing away her education. I never saw her as a lawyer but a profiler with the FBI or so. That would have made lots of sense to me but for this series to work, we need Neptune and some of our regular players.
First things first, Logan is in this story! I was pleasantly surprised by it. Then there is this whole story of finding a left for dead but not yet dead young girl in a ditch outside of Neptune. Veronica gets asked to investigate and while she can clear up the insurance companies request quickly, the full case doesn't get solved in an instant.
I actually liked this one a lot better than the first book. Where the first one was, for me, struggling in style, especially in the beginning, 'Mr. Kiss and Tell' was a lot better and not laden with details in every description. I read this after Persuasion so I do think that saying the style was okay is a huge compliment. Anyway.
In true Veronica Mars fashion, this isn't just any case, it adds some social commentary. While Veronica's and Keith's work ethics in regards to breaking and entering are questionable, I have always enjoyed the fact that this is a show about a strong female character and the books carry on with that. This one tackles the question of police help when you are not a favourable member of society, like an escort. Because the popular viewpoint is that if you're an escort or even a hooker, you're inviting to get raped. (Just like being on social media apparently invites harassment.) Spoiler alert: You're not! The cops/sheriff's department don't regard the rape of a hooker a priority or even something to actually give any consideration at all which is where Veronica steps in to help the underdog.
My only problem with this book is the fact of how much the other characters like Mac and Wallace are left in secondary character land. The series has always been about Veronica, told through herself but I had hopes for some vital players to get a bit more 'screen-time' in the book continuation, especially with Mac working for Veronica and all. Sure, Veronica has her own problems with Logan being back and Mac does get a few moments to add bits and pieces to her switched at birth storyline but it still leaves me hanging. Same for Wallace.
Wallace was and will always be the guy who jumps when Veronica asks him to and that makes me sad for him. I want to know more about what Wallace does, his friends, if he is dating anyone, who said lady is and so on. Same goes for Mac. I still have that headcanon where she is bisexual, mostly because I want to see that and because I do believe it would fit her character very well. Regardless of that, I want more about them. I want Veronica to start treating them like her actual friends and not just the people she uses to get ahead. This sounds harsh but isn't that what she has always done? It would be nice to see her better herself at that.
The story itself, how it played out, twists and turns, was very enjoyable until the very end and what she thinks about Leo. I'm not going into the details here because of spoilers but I really hope they are not going there. I really, really do because that would make me mad. I don't need and want to get every plot point of the show recycled in paper form.
On the whole though, I was pleasantly surprised by this book in the series and am now definitely looking forward to the next release. I was on the fence about the series after the first book but not anymore.